Baby Shower Games
So you're organising a Baby Shower for your best friend, but don't know what games you can play with mum-to-be. We have you covered! Today, we'll be discussing 4 of the best games to play with your guests at a Baby Shower. Games and Baby Showers have a long-standing history, and it's customary to have some fun right before your BFF's little one comes and changes their lives. So, have some fun!
Now, apart from the typical games of guessing the size of mummy's belly or changing dirty nappies on baby dolls, check out some unconventional fun games to liven up the party.
This baby shower game is an entertaining and easy game to incorporate into the baby shower. All you need is a Twister mat with some easy props. The idea is to get all the guests to wear a ball secured by tape around their belly and play a game of twister. You can ask everyone to bring a ball, or you can pick them up for good value in a local discount store. Watching your friends navigate and waddle through the game with their big bellies is a hysterical way to get a laugh out from everyone.
This baby shower game is perfect for an outdoor party on a warm summer day. You need a buggy, a doll, and some obstacles to play. Whoever is 'on' places the doll in the buggy and runs towards the finish line, avoiding obstacles in the way. For every obstacle knocked over, points will be deducted. The quickest to reach the finish line wins! And if someone happens to drop the baby, they are immediately disqualified! Oops 😉
This is one of the easiest baby shower games you can play with your besties. Hand everyone a small piece of paper or a paper plate and a marker. Holding the paper up to their head, the ladies must draw what they think the baby will look like. This game is guaranteed to have everyone in knots!
To make this a little more interesting, you can divide the group into pairs of two. One teammate can draw, while the other can guide. Communication is the key to success here. Let the games begin!
This game will allow the Mum have loads of lovely keepsakes for the baby. It also gives Mummy the chance to put her very swollen feet up and slow down for a few hours! For this activity, everyone will get a neutral-colored onesie, some markers, glue, and decorations to make a cute outfit for the baby. This baby shower game is great with nibbles and drinks! Or if you want something ready to go, you can also check out our Bib decorating sets!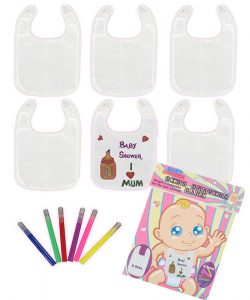 The Baby Shower makes things very real for Mum to be and could be her last chance to spend quality time with her pals and loved ones. So make the most of it and create tonnes of memories with baby shower games, decorations, and gifts. Take pictures, so she remembers it all but also remember to be present and soak everything in. And most importantly, don't forget, organising a Baby Shower doesn't have to be complicated or stressful, and that's why Babyshower.ie has all the baby shower games that you need to organise a party to remember!