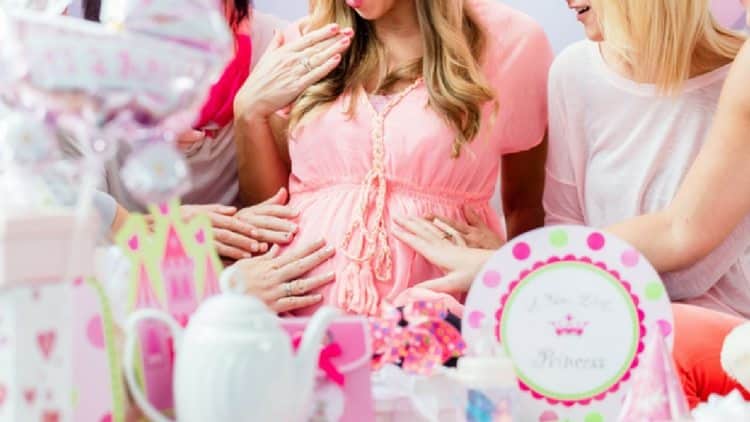 What is a Baby Shower?
A Baby Shower is a party held to celebrate the coming birth of a new baby.  The Mum-to-Be is "showered" with gifts and favours.  Baby Showers have been hugely popular in America and UK for a long time but now they've hit Ireland!  Read on to discover how to plan the perfect Baby Shower.
Who Organises the Baby Shower?
Baby Showers can be organised by friends, work and colleagues, relatives . . . and although it's meant only to be for the girls, it's becoming more popular for husbands and partners to come along as well.
What are the key elements of a Baby Shower?
There are 3 key elements to hosting a Baby Shower
Baby Shower Table – the focal point for the Baby Shower where you lay out your drinks and nibbles. This is where you would put the cake if you are having one. There are loads of ways to dress your Baby Shower Table. We have loads of ideas here for you on BabyShower.ie as well as loads of inspiration on sites like Pinterest
Baby Shower Games – Some fun games for the Shower to have a giggle with the group. There are loads here on our site and also online
Baby Shower Gifts – something small for the Mummy To Be or the Baby. Ask all your guests to bring something wrapped and place them in a basket or box when guests arrive. These are opened by the Mummy To Be later in the Shower in front of everyone
When should it take place?
Sometime in the last trimester, about a month before the due date is usually a good time.  It's best to consult with the Mum-to-Be to make sure that it doesn't clash with any prior appointments she may have.
Where should it take place?
It can be anywhere you want it to be – it can be held at the Mummy To Be's house, or in the house of the person organising it, or at Granny's house. Some people prefer not to have it at a house and will instead go to a hotel for something like Afternoon Tea or get a function room or a space in a nice bar.
Who comes to a Baby Shower?
Anyone that loves the Mummy to Be and wants to wish her well with the birth of her new baby. Traditionally female friends and relations come to the Baby Shower. Or close colleagues at work. Sometimes guys are asked as well and some of the games available are geared towards mixed groups
What is the most important thing at a Baby Shower?
The Mummy to Be. It is all about her. This is an opportunity to wish her well with her new baby and make her feel loved and supported by her tribe around her