Baby Shower games are essential in my opinion! They are great fun and an interesting way to break the ice and get everyone talking if there are people attending that might not know each other.
If your guests are up for a laugh and a fun group then you could play several different games. An important thing to remember is you will need a little surprise for the winners, an ideal gift would be bars of chocolate or little candles for examples.
 1. Baby Shower Bingo
This is such great fun for a baby shower party!
Played just like regular bingo, but instead of playing with numbers you play with baby objects. And just like Bingo, the first person to get a line wins!
Baby Shower Bingo can be played with 8 individual players or put your guests into teams!
2. Baby Shower Social Media Frame
A fun game for the Baby Shower to capture some amazing memories forever!
The Baby Shower Social Media Frame is one of our best sellers, When all the photos are taken, why not print them and put in a little album for the Mummy-To-Be as a lovely keepsake.
3. Baby Shower Bib Game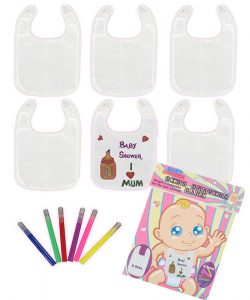 I love the Baby Shower Bib Game as it can be very sentimental! This game comes with 6 bibs in a pack and permanent markers. Everyone takes a bib, draws on them or leaves a message for the baby.
They are then given to the Mummy-To-Be who will have them forever and even be able to use them when the baby comes! How sweet is that!
4. The Baby Shower Challenge
This is a must have at the Baby Shower! It is sure to get everyone laughing at the Baby Shower!
The Baby Shower Challenge Game comes with assorted cards for your party that contains a range of different challenges for your guest to do!
5. Baby Shower Jigsaw Game
The Baby Shower Jigsaw Game is one for your competitive friends!
Set the clock and give two guests a jigsaw each and see who's competitive side comes out first! The first to complete the Baby Shower jigsaw wins!
If you are trying to think of what to give the highly competitive winners then look at our Baby Shower Winners Medals!