Beautiful Games For The Baby Shower
A Baby Shower would not be complete without games in my opinion. Our site is full of fun Baby Shower Games to liven up your party and to give the Mummy-to-be a day to remember. But today I have put together some Beautiful Games For The Baby Shower that is sure to add that little special feeling to the Baby Shower celebrations.
If you have a group getting together that might not know each other, then games are the perfect way to break the ice and get people talking.
This 'Little Miss and Mister' photo prop set is perfect for Baby Shower celebrations to create lasting memories. This set comes with a range of props in both blue and pink.
This is the the perfect set of photo props when nobody knows baby's gender!
This is a beautiful activity for guests to pass on nuggets wisdom and guiding words to the new parents.
Ask everyone at the Baby Shower to fill one in, gather them up and give them all to the Mummy-to-be.
These sweet advice cards are shaped like little baby gro's and come in rose gold.
I love this beautiful idea, probably one of my favourite games on our site for a Baby Shower. This is fantastic as both an activity and a gift for the baby's parents.
It's quite simple but can leave a lovely memory for the parents. Simply ask your guests to push their thumb or finger into the ink provided and then make a mark on the tree.
Each print then represents an individual at the shower. Something so special to hang on baby's wall!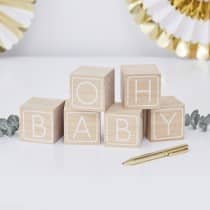 This stylish block guest book is not only a fun activity for the afternoon of the baby shower, but also a beautiful present for the new Mummy and Daddy.
The blocks read 'Oh Baby' when together, but each of the sides are blank so the guest can write a little message.
The messages can be to the parents, or the baby. A lovely activity, gift and reminder of who was at the Baby Shower!
I hope these leave you with some baby shower inspiration for your upcoming celebrations.
Need any further advice on baby shower planning then get in touch today! xx